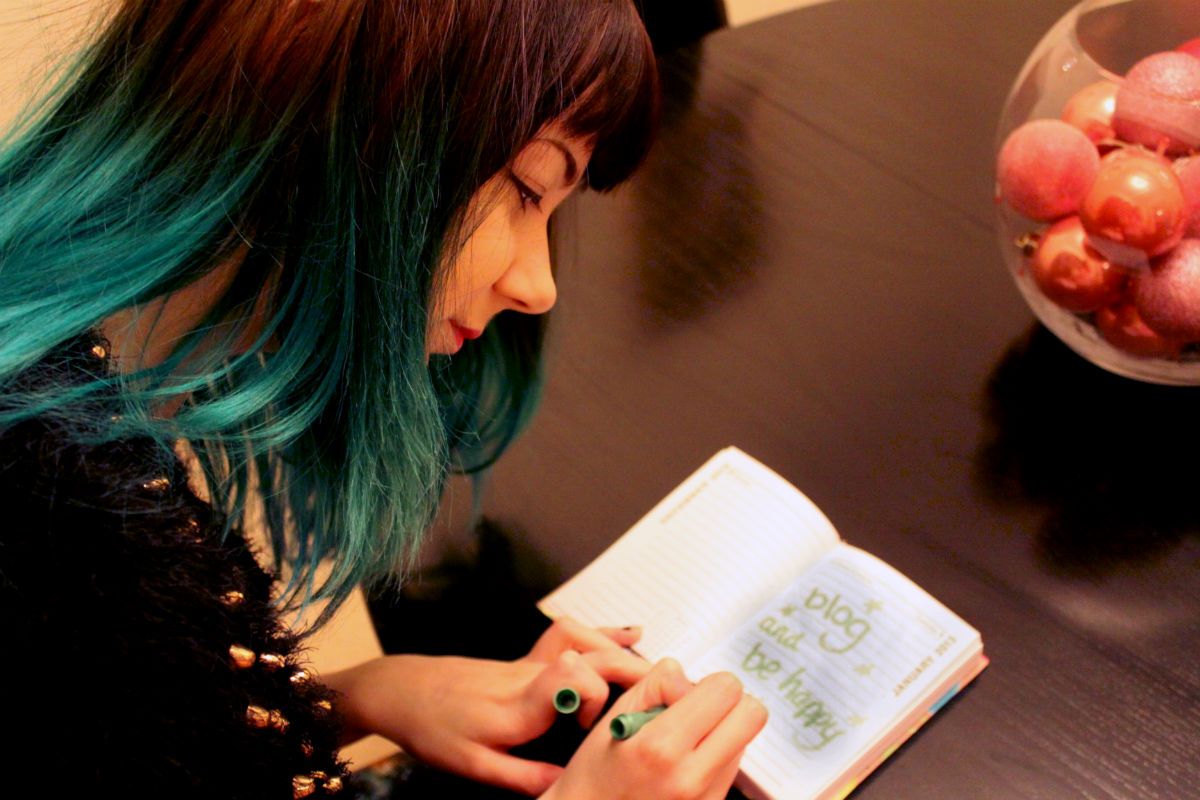 the london lipgloss turns three this month!
So I missed the exact date of my little blog's birthday - it's the 15th February, just FYI
-
and I felt a bit bad about it. I also sat there and thought, "wow, my blog is two!" before realising my blog is in fact three years old this month and I cannot believe the time has flown. I thought i'd take a little moment in the midst of all the Fashion Week coverage to talk about blogging, how far i've grown and how I never thought my little bedroom hobby would turn into something that changed my life.
So I started my blog back in 2010 with the sole ambition of it being a little sanctuary for me to chat about all things makeup, beauty and fashion. Back then the blogging industry - particularly in the beauty sector - was ruled by Elle and Blair on YouTube, and wider than that had started to spread and seep into the UK stratosphere. I regularly read the likes of Lipglossiping, British Beauty Blogger, Vex In The City, Beauty Junkie In London, Make Up To Make Out and Hell Candy (just to name a few), those girls being hugely at the center and forefront of something none of us knew would
ever
take off as much as it did. I started not long after these fabulous girlies, with a penchant for makeup (particularly MAC) and a need and want for a creative outlet - I still very much try to incorporate my fine art background into my posts by painting with nail varnishes and drawing with eyeliner - The London Lipgloss was born.
At this time there were seldom press releases sent out, press samples only went to the likes of bloggers like the six babes I mentioned above and even then they were few and far between and blogging events were only just scraping off the ground. I remember very clearly getting my first blog invite, and it was to a Sleek event, where I was so warmly greeted by the amazing Sarah (I Heart Cosmetics) and Leanne (Do Not Refreeze) who took me under their wing and made me feel right at home - something I never forgot - Sophie (Sophie Is Made Up) and Milly (Pearls and Poodles) won a trip to New York, I met my blogging idols Yinka (Vex In The City) and Charlotte (Lipglossiping) in the flesh and I bonded with YouTube newbie Fleur (de Force, who went on to achieve stratospheric blogging success!) who was also at her very first blog event.
It was all a bit different then, we swatched immensely and we wrote at lengths and in detail and it was in no real rush that we wrote about things, and it was very much our own prerogative what we blogged and when - mostly due to the fact that we were yet to be saturated with press samples and releases, and brands were far less into the idea of the sooner the better that things were updated onto the blog, or as it should be more realistically referred to as - they never wanted their free promotion as soon as possible like they do now.
Jump forward to today and blogging has changed so much in these three years that I barely sometimes take a minute to stop and let it all sink in. We have had to evolve and change with the ever needing times of information, and every single day brand new blogs are born, bringing fresh ideas and changing content right in front of our eyes. Some new blogs that I read are absolutely incredible and it's so exciting and refreshing to see. Brands now clamor over each other to get their products into the hands of bloggers and there isn't a day go by when there's not a bloggers event on. Some bloggers are as big celebrities as reality tv stars, as proven evident this weekend to me at Fashion Week, when younger girls attend the courtyard carnival of fabrics at Somerset House just to get a glimpse of Susie Bubble or Style Scrapbook. We're now not just blogging but we're vlogging, instagramming, tweeting and even vine-ing our lives on a daily/hourly basis and it's all there live, in HD and ready on the internet for the world to read.
I often find myself bewildered, like i've tripped down the rabbit hole of blogging and i'm in a surreal almost LSD style wonderland that bombards me with products, offers, events and opportunities. I still couldn't tell you where I fit into the blogosphere, and i'm still bemused that people read this website. I sometimes wonder if it's right for me, if it's what I enjoy, this new world of brand and product fuelled blogging that takes us down a sponsored route of money making big bucks Super Bloggers, and I more than often find myself sitting here wondering what to do with myself, really.
I never set out to want to be a successful blogger. Of course I wanted people to read the site, I still would hope and wish that even one girl today reads this post it'd make it worthwhile, but I don't think I can ever be a "pro-blogger." It's just not for me. I don't think it's bad for anyone else to want to, not in the slightest, but I feel uneasy and uncomfortable sometimes myself at the thought of me doing it. If I have to ask for money I feel like I shouldn't, and i'm consistently weary of being sure this never ever reads like a press release, or like an advertorial. I usually find myself musing over the future of blogging, and whether really all that's happening is that we're being slowly bought out by the corporate demons, and really we're just puppets to their agenda. I don't ever want to read like an advertorial. I am not a walking advert, i'm not a prize to be won and while yes of course I need to make money to eat, I can't be bought with a price.
I've been so fortunate that i've done some stupidly incredible things whilst blogging. I do take for granted sometimes, that i've had lunch at The Savoy, i've been given cars to chauffeur me around Fashion Week, I am given a whole new wardrobe when I want it - and these are all just from the last two weeks - i've traveled abroad and i've presented outside the Lady Gaga Born This Way Ball. I've been spoiled, pampered, treated and thoroughly "gifted" beyond belief. What girl wouldn't want that? But i'm actually not a false material girl, not really, despite the content of this blog. Those things when given for free don't actually satisfy me in the long run. I want to get my hands dirty, I want to walk until my feet hurt and I want to die knowing I worked so freakin' hard I had no time to sleep during my life.
I started this blog because I worked 40 hours a week in a shop where I earned £5 an hour, yet I dreamed to spend all my money on MAC. I wrote it because I wanted other girls like me to know that if they work hard for £5 an hour, the products they buy are worth it. Behind the scenes on this blog I run around like a headless chicken, making a career for myself. I'm not saying blogging isn't a career, if its yours then seriously good on you, but it's not for me. I wouldn't quit blogging, because it's my hobby and it's the most rewarding and beautiful hobby I ever began, but i'd never lose sight of who I was and what I wanted. I also ultimately started writing this blog because I wanted to create content i'd like to read myself. I think I got a bit lost in the middle, and I learned that wasn't who I wanted to be.
I have noticed recently some of the brands I used to work with now no longer work with me, and you know what, that's cool. There are so many new bloggers that they need to disperse into their readership too. I lost one high end one recently that would make any girl upset, but I genuinely didn't feel butthurt about it. These days i'm happier with the brands I simply
adore and cherish
(being the ones you read about here, I always tell the truth!) being a part of the TLL world, because to me it feels more real, much more like me again. I don't want to waste anyone's time and money and I really don't want to accept things for the sake of them being offered. Plus, i'm genuinely running out of room! This blog has been the most fantastic springboard into a life achieving my career goals and dreams, and I couldn't be more thankful. I never in a million years thought anyone would ever stop me in the street and exclaim they loved what I did and whenever it happens I smile for weeks. If you ever read a post of mine in the last three years, and even if this one is your first, i'm forever grateful you took a read. I know i'm the worst at replying sometimes but I read every single comment and tweet and what you don't know is that I follow hundreds and hundreds of blogs on bloglovin' and am just as obsessed with reading your blog as you are with others.
Blog is not a dirty word. Be proud of your blog, stand up and say you are a blogger, don't masquerade yourself as a journalist. Lets not destroy or let them salvage our free world that we created. Take lessons from the Joe Strummer school of punk and be anarchic in how you write. Don't sell your soul. Read press releases and accept press samples, but
do whatever you want
with them. It's your blog. Don't buy something just to please your readers, and don't not buy something if other bloggers say it's uncool. Care less and love more. Be everything you ever wanted, and use your blog to achieve your dreams in your own incredible little way. Here's to another year of TLL, bless you for visiting. < 3
Don't want cash, don't want cards, want it fast, want it hard. Don't need money, don't need fame, I just want to make a change. I just wanna change I just wanna change I just wanna...change. If you are not very careful, your possessions will possess you...