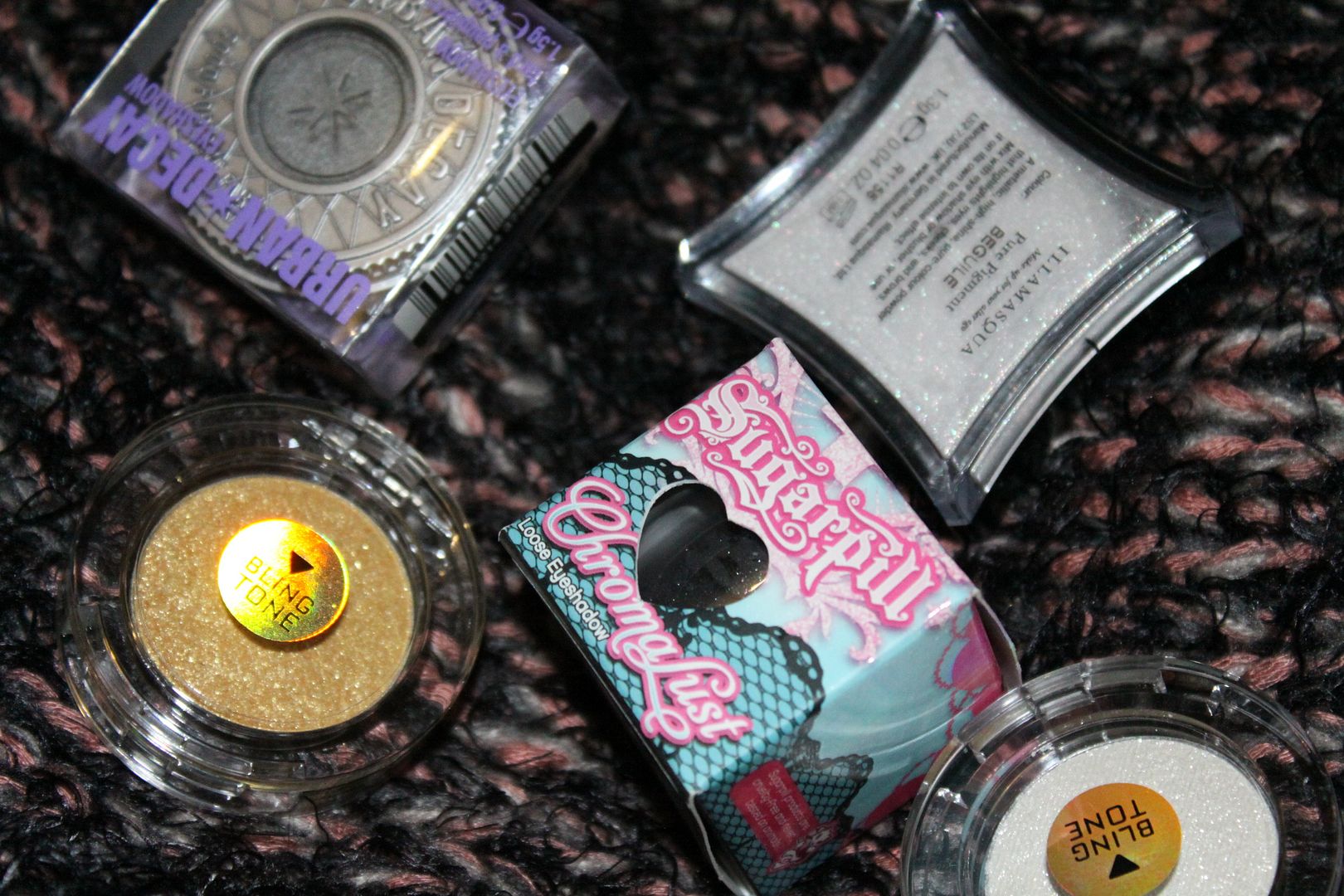 I don't know whether just because it's Christmas and i'm really embracing the glitter i've found myself creating an eye look lately and then either smothering it in glitter or using glitter to enhance the eyelid. I found actually, that when I went through my eyeshadow drawers that I actually owned a lot of glitter eyeshadows, or glittery pigments. I decided to show you the five most reached for in the last two weeks ready for Christmas incase you're feeling a little Christmassy and want to treat yourself to a little glitter eyeshadow (a girl has to look good for Christmas!) First up is this rather cheekily titled mono eyeshadow by Urban Decay:
As you can see in the swatch it's quite a dark silver. I like the way it's almost grey toned and how sorta grungy it looks. This is a dry swatch but it does pop a little more when used wet. I find some Urban Decay eyeshadows aren't quite as pigmented as some others - and unfortunately this is one - but I like it that way because if this was too full on silvery it would look a bit much even for a party look. I've found with this I can layer it over greys and blacks just to add a new dimension. If i'm going for a light, soft eye, I use a little bit of this through the crease to make it dark but not blacked out. I think it's a great allrounder because it's less pigmented - if that makes sense!
I like these little mono eyeshadows because they're quite glittery. I don't find them to be massively pigmented - again we've established with full on glitter it's not my preferred choice anyway - but I think they're so pretty! They're so soft and make gold and silver really wearable. They're also insanely sparkly, the base is a pretty sparkle tone and then they each have glitter running through them. I think they're fab for the price, but don't go expecting crazy bright pigment. MyFace claim they're made with crushed pearl but I don't believe that massively - but I do think 'pearl' is a good way to describe the finish, just a little gritty though. Start with a cream base and that grittiness will stay in place and soon create you a gorgeous eye!
I don't want to be dramatic or too loyal to one product but this is my favourite product possibly ever in the world ever. ! It's the most gorgeous glitter pigment with flecks of pink and green running through it - inkeeping with the theme of Theatre of the Nameless of course - and it is just beautiful. I have not found one shade of eyeshadow it doesn't sit on top of beautifully and compliment and I think this pigment is entirely why I've been so hooked on glitter for the last two weeks or so! This has not been put down, even when i've told myself to try a new eye look I still pop a bit of Beguile in my inner corners! It is impossibly hard to photograph acurately, It's one of those things in life I feel you just need to experience for yourself really but trust me it is beautiful. The last photo in the set up there shows you just how insanely glittery it is - look at all those lens reflects! Worth every single penny and I hope it doesn't disappear too quickly because I've a feeling i'm going to need more than one in my lifetime! It makes me feel totally beautiful without looking like a drag queen - because if you use glitter wrongly it can look a bit like that. This is soft, muted, secretive, but absolutely gorgeous. It can be used on cheeks, lips and even just over the body for a highlight. I encourage you all to pop to Illamasqua and try it! Then challenge you not to buy it...good luck ;) !
What do you think of the eyeshadows I picked? Do you own any of the ones I featured? Have you too been reaching for the glitters this Christmas season? My glitter addiction has only just started and I can see it going deep into New Year too!